Easy Site To Site VPN Setup To Connect Remote Office Networks Together
Now, small and medium sized businesses can easily join the networks of two (or more) sites together into one unified site to site network without having to purchase expensive equipment, hire specialized staff or manage complicated software.
A Free Plug-and-Play VPN Router For Each Branch Office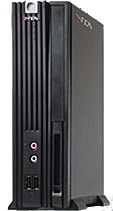 AccessAnywhere provides one of our free, state-of-the-art, Site to Site VPN routers for each of your branch offices. Unlike complicated VPN devices and VPN solutions that require network downtime or replacement of exisitng network equipment, the AccessAnywhere VPN routers connect to the existing office LAN, and requirie no technical skill to setup since they arrive completely pre-configured.
All you have to do is plug it in and turn it on. Our VPN experts take care of the rest, including all the VPN setup, configuration and monitoring of yor VPN tunnels.
Direct Site To Site Encrypted Tunnels
Unlike most other managed services, AccessAnywhere's Site to Site VPN tunnels do not require that your network traffic be routed through a centralized, shared "hub" service point.

With AccessAnywhere, the dedicated Site to Site VPN routers on your network connect directly to each other, using the shortest possible path, and that means better performance, increased privacy, and improved productivity for users.
No VPN Software Required For Users
With a site to site VPN, the networks at each office are joined togther 7x24x365, so users do not need to install any VPN software at all. They will have access to remote servers and data just as if they were local to them.
Access Office Files

Directly access shared folders and files on office computers or NAS storage servers. Work directly on MS-Office files and more, as if they were local to your PC. Network drive mappings created in the office, work without change when connected to the VPN.

Multi-User File Sharing

Easily share files, like an ACT! or QuickBooks - simultaneously with other remote users, without locking up an office desktop.

Multi-User Remote Access To Office Computers

Provide multiple users with concurrent remote control access to office computers, just like they were there, but in the privacy of their own sessions that won't interfere with each other.

Integrate With Non-Windows Network Resources

Securely access non-Windows servers such as Network Attached Storage (NAS), Macs, Unix, Linux and Netware servers

Connect To Office Databases

Directly connect local business applications to head office database servers. Ideal for e-mail or SQL databases.

Connect With Mobile Devices

Apple, Android, and Blackberry mobile devices and tablets are powerful computing devices that can provide you with truly mobile connectivity to the office network.
Includes Access For Offsite Workers Also
The same secure Site-Site VPN platform that will join your networks together, can also function as a VPN gateway to provide remote or mobile workers with simple transparent access to the entire corporate private network.